Libia Zarate Alvarez
Libia is an independent entrepreneur. A knitter of high-quality products, who we are proud to be partnering with. We met in 2021 and are happy to share her story and her dreams.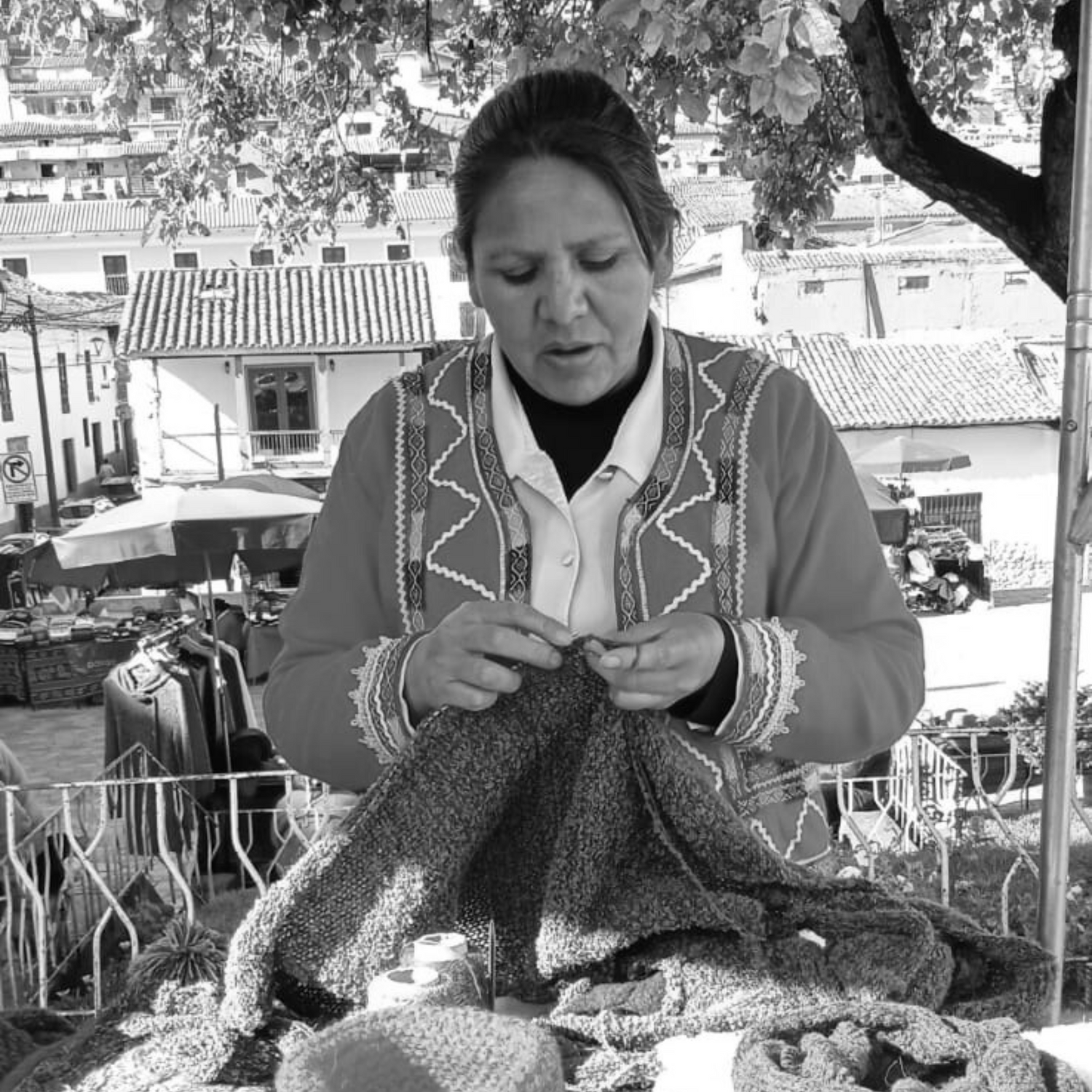 This is Libia.
Whoever thinks that knitting is for boring, old women, should talk to Libia. As a power-woman and full-time knitter, she knows like no other how therapeutical knitting is. Her biggest dream is to share this therapy with other women.
As a knitter for Yanantin, Libia earns much more than the minimum wage.
For now, that seems fair since she is working as a freelancer and doesn't get any social benefits. Salary negotiations are a dialogue, a two-way street. She knows what her craft is worth and Yanantin is happy to pay fairly for that.
Curious to see what else we do to make positive impact?
For Libia, knitting is therapy: 'When I knit, I relax. I feel good because I forget about my problems. '
From factory finishes to free workshops
Libia learned to knit when she is fourteen years old. 'My sisters taught me. They thought I was too old to not be knitting!' With her newly obtained skills, she found a job in a local factory, where she worked for several years putting pieces of clothing together. Libia: 'After a while my hands started to itch: I wanted to get back to hand-knitting. I really missed it.'
And, as it turned out, the Universe agreed with her. Libia was able to join the free workshops offered by an NGO. 'I am so thankful for these workshops. They taught me everything I know now. And I'm using my skills to teach other women how to knit.'
More and more opportunities
Her valuable experience got Libia a new job, too. She started knitting for a Spanish employer in Peru. She got paid per product. 'Working with la Española allowed me to perfect my knitting skills. But after a while I realized I could better start working independently.'
Working indepedently in Peru has its pros and cons. Libia: 'As a mother of four children, I need to be flexible. My husband works at the ministry of culture here in Cusco and that leaves me to take care of the household. The flexibility is great, but finding customers alone is challenging. In order to secure my sales, I became a member of the local knitters' association.'
No safety net
Being a member of such an organization is common in Peru, but, like Libia said, not without its downsides. 'We pay a monthly fee to participate in markets and fairs that happen during the holiday season, or for festivities like Mother's Day. In the end, paying the fee is worthwhile, because I meet potential customers. When people find my products, they reach out to me directly for new orders, locally and abroad. Those orders make it worth it. I've had a big order that was shipped to Canada, and another one to Switserland. Some of my local customers have been with me for ten years! And of course, that's how you found me as well.'
While the association helps Libia to earn a more regular income, there are no benefits, no social security, no financial back-up. 'Eventually, having something fixed is the dream. With the pandemic, we all lost our income. When the country finally opened up again, we got hit with the political crisis. Without tourists, we have no sales. Without sales, we have no income. I was so sad during the pandemic. I didn't even want to knit. Finally, the country is slowly recovering. We can only pray for the tourists to come back.'
A harmonious future
Since Libia started working with Yanantin Alpaca, she allows herself to dream again. 'Knitting is very relaxing. If you like to knit, it's magical, like therapy. It is my dream to share my skills with other knitters from the neighborhood. There are so many mamas who can use the money. And the company! Because when we are together, we chat, we talk, we laugh, we make jokes. We work in harmony and happiness. It is my dream to work in a workshop one day where everyone can come together to knit and share.'
In her future, Libia envisions a workplace where mothers from the neighborhood come together to knit. 'I can teach them anything and they can join the workshop if they want to, or work from home if they want more flexibility. I would hire a babysitter for the little wawitas. And we should all earn an income that actually helps us to get by. At least double the minimum wage.
I am happy where I am for now, but I work day and night to get the work done when I get a big order. It would be nice for things to be more balanced.'
Made by Libia
Libia is an independent entrepreneur. A knitter of high-quality products, who we are proud to be partnering with. We met in 2021 and are happy to share her story, her dreams, and her products.